PROTOUCH AFRICA partners with the Flandrien Hotel to launch African Riders' Development Programme, through the Phil Liggett Foundation. Launch event in Belgium on 28 September 2021
PROTOUCH AFRICA is an African Sports brand, focussed on enabling Athletes to perform on the World Stage. Centred around the number one UCI-ranked Continental Road Cycling Team in Africa, PROTOUCH takes naturally-talented road cyclists from Africa and enables them to compete and perform in a global cycling ecosystem. It's vision is to revolutionize Professional Cycling in Africa, by building a sustainable business that supports high performance and unlocks value for athletes, brands, cycling enthusiasts and investors.
THE PHIL LIGGETT FOUNDATION is a non-profit organisation, initially set up by PROTOUCH with the global voice of cycling, Phil Liggett to raise funds for South African road cyclists participating in UCI Teams. This scope has been extended to incorporate African Cycling as a whole, with the launch of the PROTOUCH AFRICA mobile application. The Foundation's founding supporters include multiple South African National Road Champions and World Tour riders, Ryan Gibbons and Ashleigh Moolman Pasio. African Cycling ambassadors from Eritrea, Rwanda, Ethiopia and Algeria are currently being onboarded, in order to raise awareness of the Foundation and its goal to boost diversity in the cycling world.
"Over the past three years, there have been fewer than fifteen African riders in the Men's World Tour, consisting of over 500 athletes across 19 teams; and, only one women in the Women's World Tour. Currently approximately 150 African riders are competing in World Tour, Women's World Tour, Pro, Continental and National Teams from Africa. Investing now, could not have come at a better time" commented Phil Liggett.
PROTOUCH plans to grow its top performing Continental Team into a Pan African Pro Team over the next three years, alongside an African Talent Agency and funded via a new business model. "This new business model seeks to engage and monetise the cycling enthusiast fan base, by leveraging a combined reach of over 1,5 million followers, that already are engaged with African Cycling" announced Rebecca Eliot, founder and driver behind the PROTOUCH AFRICA strategy.
As this community grows, PROTOUCH plans to monetize it using its fan engagement platform, Foundation Merchandise and digital NFT's. Fans can explore and build their ultimate African Cycling NFT Collections, featuring the top performing African Road Cyclists on the World Stage and be part of this incredible African ATHLETE IMPACT FUND story, from the beginning!
PRESS LAUNCH EVENT – TUESDAY 28 SEPTEMBER 2021 – THE FLANDRIEN HOTEL, BELGIUM
On 28 September 2021 (just after the UCI Men's' World Championships Road Race in Leuven) The Phil Liggett Foundation and PROTOUCH will announce the launch of an African Riders' Development Programme in partnership with the Flandrien Hotel in Belgium.
The purpose of the launch event is to gain visibility for PROTOUCH and the Foundation's activities and to attract donors and sponsors for the African Riders' Development Programme. The event will also be live streamed on the Detour Podcast for those who cannot attend in person.
THE FLANDRIEN HOTEL is a Hotel and Art Gallery located in the heart of the region of the Tour of Flanders and, has rapidly built a reputation as one of the finest cycling hotels in the world. As part of its collaboration with PROTOUCH and The Phil Liggett Foundation, the Flandrien Hotel has invested in an on-site apartment to accommodate up to six riders and support staff, as well as race vehicles and a service course for equipment.
The PROTOUCH Continental Team will be based at the Flandrien Hotel during September and October 2021 between their race schedule in France. Starting from Spring 2022, the Foundation plans to send groups of young African riders to the Flandrien Hotel for periods of between 2 - 4 weeks of training and racing in Belgium and France. The selection process for athletes will be co-ordinated by the Foundation's Selection Committee and PROTOUCH Team management. Eligible riders must hold a UCI license with an African National Cycling Federation.
EXCLUSIVE VIEWING OF "Phil Liggett – the Voice of Cycling" MOVIE
On-site attendees at the press launch will also have the opportunity to view an EXCLUSIVE Premier of the recently released film "Phil Liggett – the Voice of Cycling" and meet members of the PROTOUCH Continental Cycling Team.
The life of legendary television commentator Phil Liggett MBE is inextricably entwined with the history of professional cycling. During a career that has spanned five decades, 16 Olympic games and 49 Tours de France, Phil Liggett has been there for every key moment in cycling over the last half century. The heroic triumphs, the appalling tragedies, the scandals and the controversies; Phil has seen it all, and told us about it with passion, knowledge and his trademark wit.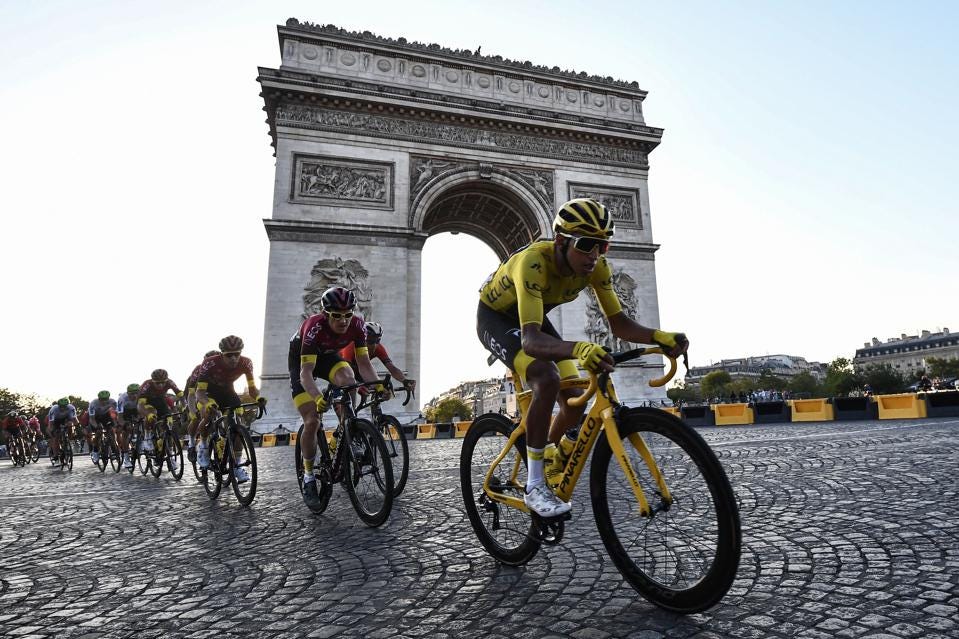 DATE: TUESDAY 28 September 2021 TIME: 12:30-16:30
Lunch followed by press briefing, hotel and gallery tour and (optional) film premiere viewing.
LOCATION: Flandrien Hotel, Hollebeekstraat 6, Brakel, Belgium +32 (0)484 796 443
The press launch will be limited to 25 attendees.
ENQUIRIES AND REGISTRATION (REQUIRED):
JAMIE ANDERSON - info@flandrienhotel.com
REBECCA ELIOT - rebecca@protouch.africa