Mantra — Sounds into Silence is a feature-length documentary that explores the musical and social phenomenon of chant and response meditation. In India it is known as Kirtan and in Western Traditions, Antiphon, and is a way for people to sing together in praise of the Divine. Mantra explores the deep and soothing connection between kirtan singers and members of the gathered community.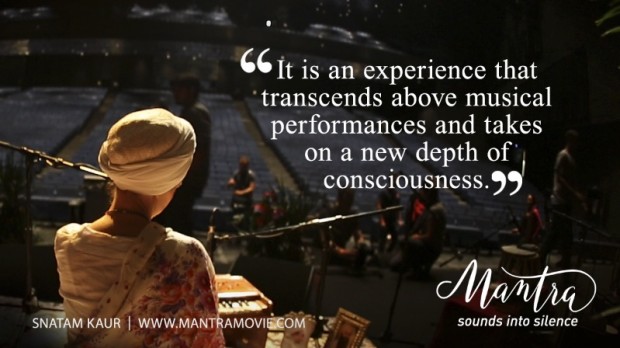 With music and Performances from Deva Premal & Miten with Manose, Krishna Das, Snatam Kaur, Jai Uttal, MC Yogi, Dave Stringer, Lama Gyurme & Jean-Philippe Rykiel, C.C. White, Mirabai Ceiba, Gaura Vani, Nina Rao, Charlie Braun it represents perhaps the most definitive collection yet assembled of musicians and their audiences who are leading a phenomena that is sweeping the globe.
Georgia Wyss and Wari Om, the film's directors take us on a journey that introduces us to the music as well as the spirtual reflections of the artists and the audiences. From locations as unlikely as the San Quentin Prison Chapel to venues and gatherings that look more like rock concerts (without the amplification).
As the LA TIMES Reports Mantra "radiates acceptance, refusing to judge any form of chants as any lesser than others, whether in Sanskrit or English, traditionally sung or rapped over modern beats. It shares that each of its subjects has made the practice his or her own, and it's an attractive message for an audience that may be hungering for its grounding effects."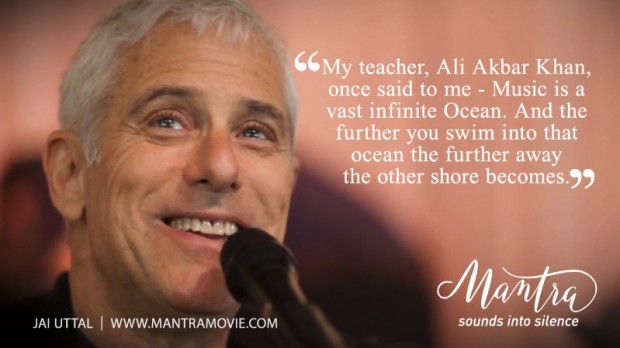 "In our always –on, supposedly connected world, people are increasingly losing the most important connection of all: the one to themselves. I have also experienced this disconnection and chanting, also known as Bhakti Yoga or Kirtan, allowed me to not only reconnect on a deeper level with myself, but also recently helped me through a difficult event in my life, letting go of someone very close to me. As I learnt more about the beneficial effects the practice was having on other people from all walks of life, I resolved to make a film to communicate just that: Kirtan is for anyone and everyone regardless of background, it is the universal language of the heart." - Georgia Wyss co-Director MANTRA
It goes without saying but we will say it this is a film made for the cinema. The opportunity to be enveloped in the excuisitely recorded and mixed music with a community who are their with you because of their love of this form of devotion (or maybe their curiosity) is a not-to-be missed experience.