COME BACK ANYTIME
A VISUAL FEAST, BURSTING WITH UMAMI!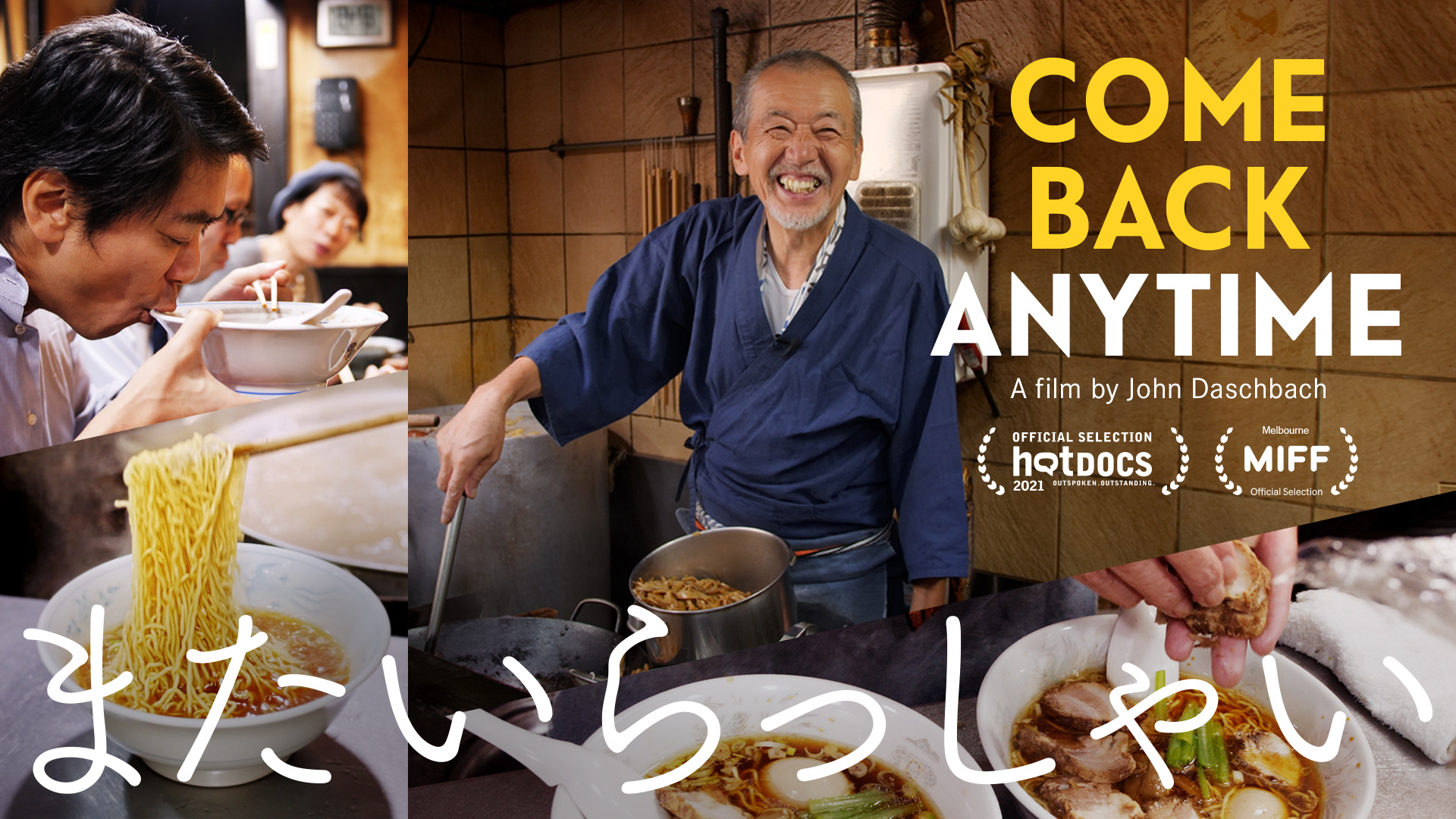 Self-taught ramen master Masamoto Ueda and his wife Kazuko have run their Tokyo ramen shop, Bizentei for more than 40 years. Scores of devoted customers have joined them in creating an intimate place of community. On the weekends, they venture together across the Japanese countryside, harvesting pears, bamboo shoots, and wild mountain yams. Acknowledging that nothing lasts forever and that the master must retire someday, everyone resolves to make the best of what time remains — to truly appreciate this special place, this uniquely delicious and soul-nourishing food, and this special community of friends before it is gone forever.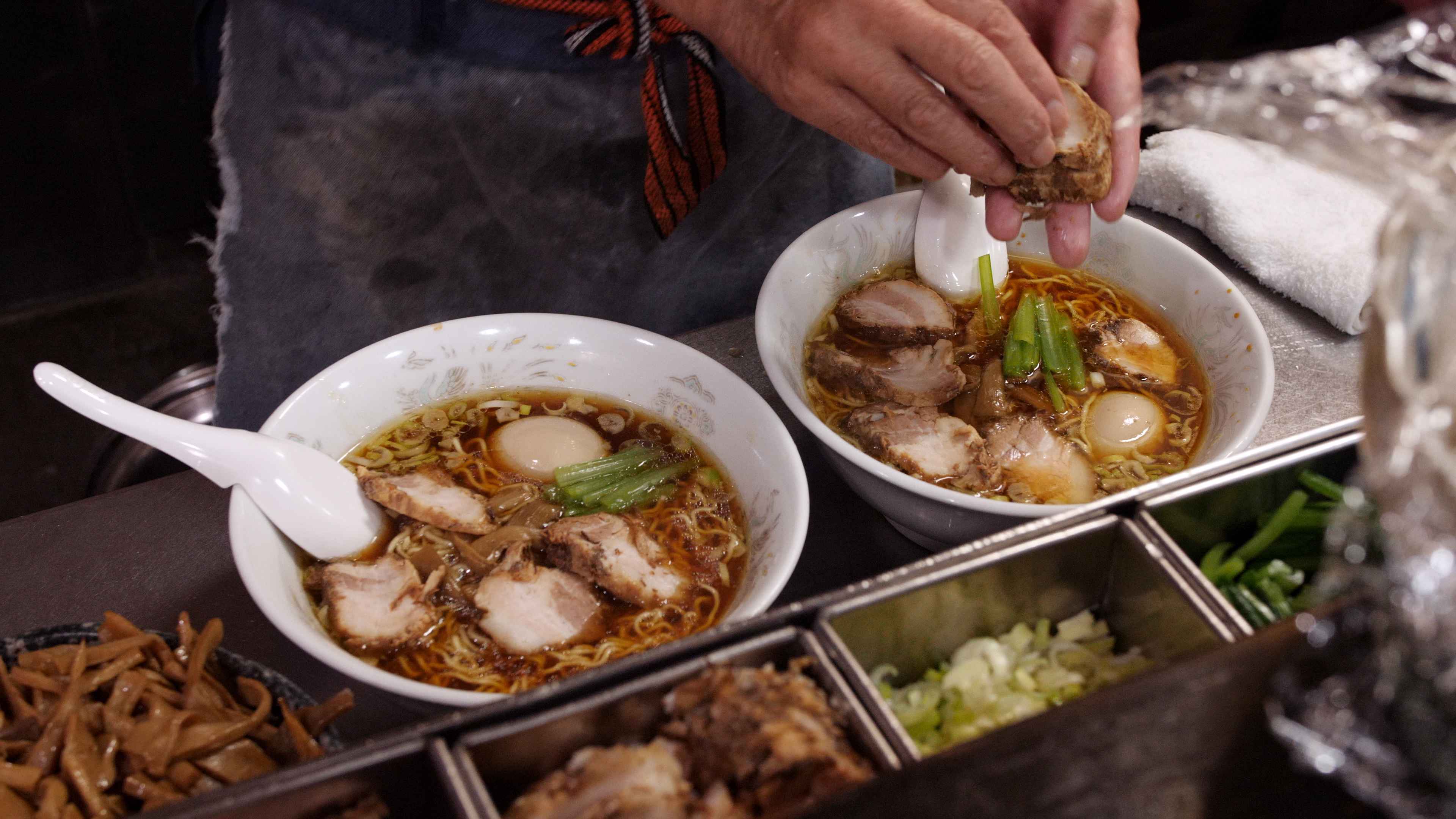 COME BACK ANYTIME presents a window into the lives of self-taught Japanese ramen master Masamoto Ueda and his wife Kazuko, who have run their tiny Tokyo ramen shop, Bizentei for more than 40 years. Ueda serves his legendary ramen to scores of devoted customers who have joined him over the decades in making the restaurant an intimate place of community. For Ueda, it's more than just a livelihood, but his life. And his die-hard regulars are more than just customers, but true friends.
On the weekends, he leads eclectic groups of regulars on seasonal pilgrimages across the Japanese countryside, where they forage, harvest, and share local produce, such as pears, bamboo shoots, rice, and wild mountain yams. Periodic visits with the Uedas at home gradually reveal their personal history and the history of their beloved restaurant.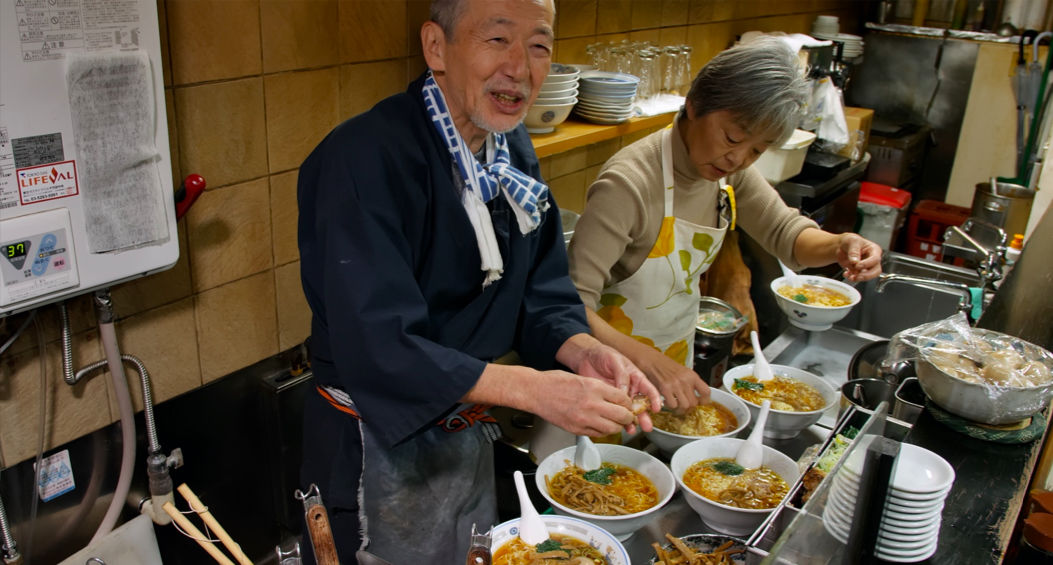 REVIEWS
"As the Cheers theme goes, sometimes you want to go where everybody knows your name. The ramen shop pictured in Come Back Anytime is such a place to its beloved group of regulars. While this cozy, heartwarming doc is about the artistry of an excellent bowl of soup, it is just as much about the power of community and connection… (It) recreates a welcome atmosphere of warmth and ambiance after an extremely isolating year." - POV Magazine
"Like the broth at the heart of each of those bowls, the doc is deceptively simple — only when you dig in do you realize it's actually refined and complex, filled with all sorts of unexpected and delightful ingredients that, together, create a magical and totally satisfying experience." - Moviepie 8/8
"Culinary documentary filmmaking at its finest, examining a beloved type of dish, one talented man who has made it his life's work, and the many other lives — and tastebuds — touched along the way." - Concrete Playground "Ten Exceptional Films You Can Stream This Week"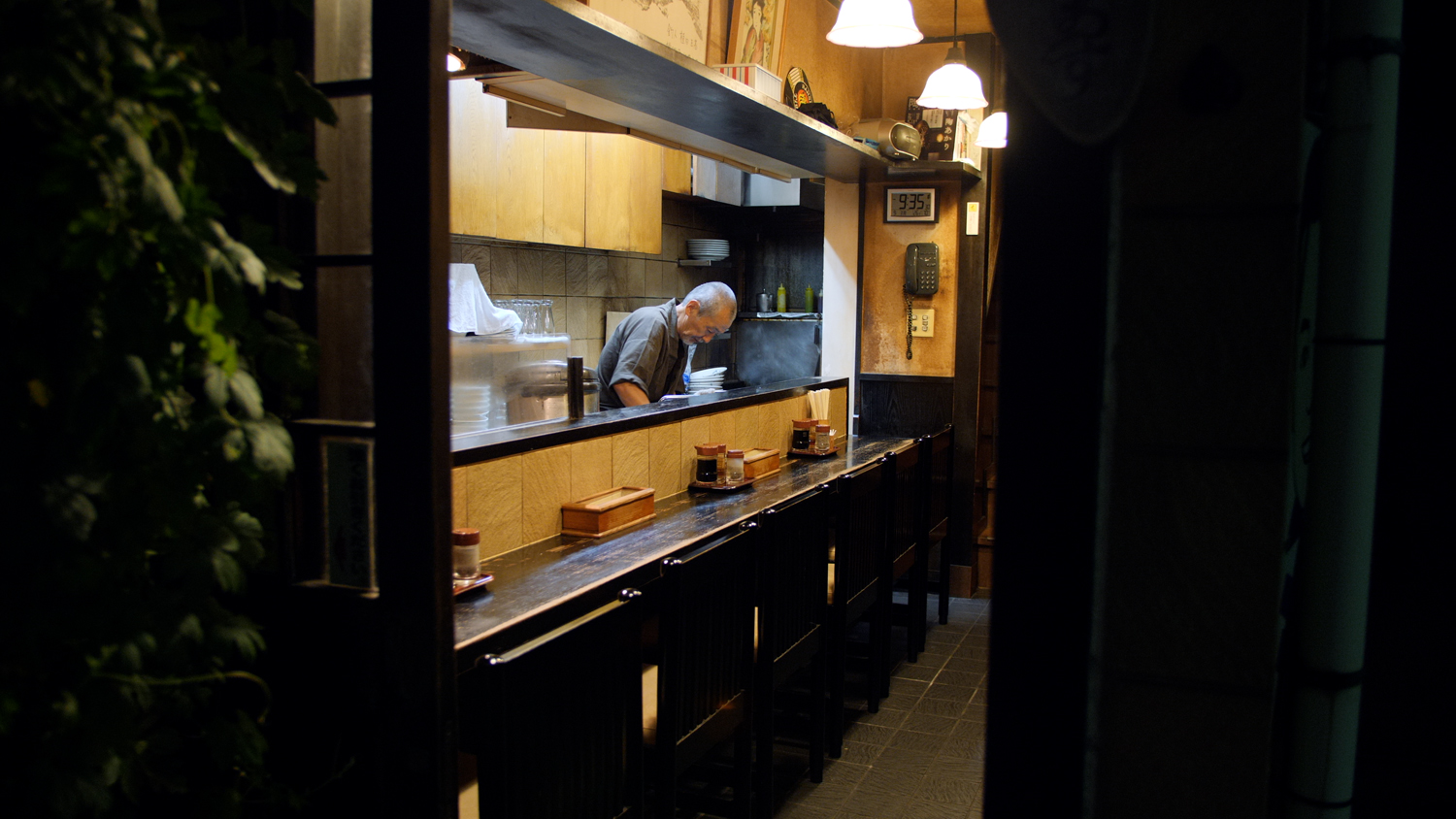 "Though the meals are indeed mouth-watering, they're not Daschbach's focus; he's more interested in the community that Ueda has built with his little restaurant." - NOW Magazine 4/5
"The early section of the film, which focuses mostly on the food, will whet the audience's appetite, but the story gets a lot more engrossing when we leave the kitchen… This film acts as a heartfelt tribute to this fascinating spot, and it's well worth savouring." - Exclaim! Magazine 8/10
"Like its title suggests, Come Back Anytime is about how food is a repeating invitation to share life and its pleasures and sorrows. This is a gentle film that will make your mouth water with its cinematography. It's not about social issues or grand stories of accomplishment. It's simply a portrait of the ways that food can define the person that cooks it and the person that eats it and unite the two in something that would not be possible without the food in the first place." - 3 Brothers Film 8/10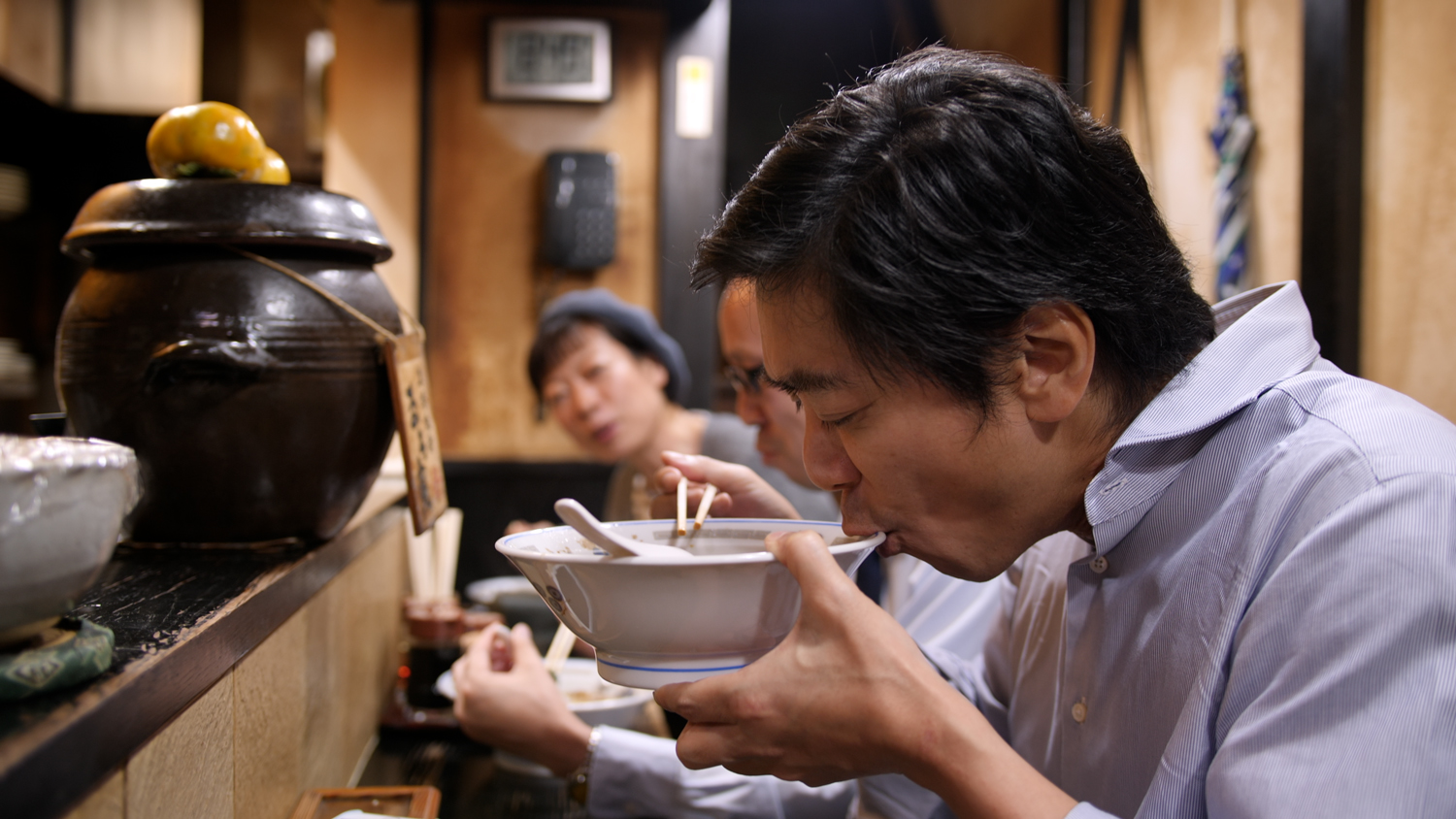 "Come Back Anytime is about savouring the time that we have, and about the community that savours with you when the time you have made for yourself is a product of passion, love, and play." - Movies For Reel 4.5/5
"A warm and intimate look at a year in the life of Bizentei, mixing sensuous footage of the many delicious meals with the warm and cosy camaraderie that exists between Ueda and his customers." - Broadsheet Melbourne "Five Feel-Good Films to See at MIFF 2021"
"It's as warm and satisfying as a bowl of broth, and perfect viewing for anyone who enjoys the convivial delights of shows like Midnight Diner." - Australian International Documentary Conference "Hot tips for your MIFF documentary viewing"
"Through observing Ueda over the course of one year and interviewing both Ueda and his patrons, Daschbach develops a picture of a fascinating man, his legendary food, and the enormous effect he has had on his customers – and they upon him." - Fiction Machine